How do I cancel my Premium Membership?
If you wish to cancel your Premium Membership, you can do so easily through your JobLeads account settings.
It is important to note that when you cancel your Premium Membership, you will automatically be downgraded to a Basic Membership after the billing cycle and lose all Premium Membership benefits such as:
Detailed job listings and new career opportunities
Coaching services such as MasterClasses, Career Guides, and Webinars
Headhunter Database and Headhunter Matching Service
Here's how to cancel your Premium Membership:
Step 1: Log in to your account
Step 2: Click on the profile icon
You can find the profile icon at the top right of the JobLeads header and select "My account" in the pop-up menu.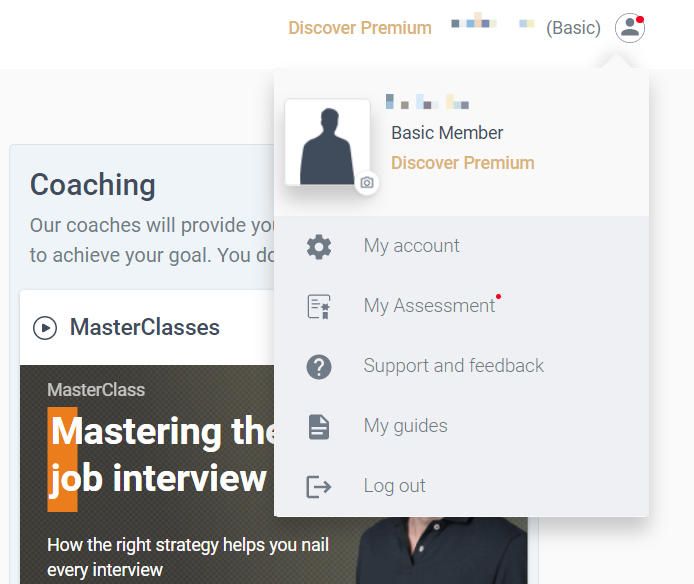 Step 3: Navigate to the "JobLeads membership" section
Click the word "here" (shown in blue) in the sentence: "Please click here if you wish to discontinue using the Premium Membership benefits and cancel your membership."

Step 4: Click the "Terminate membership" button
Step 5: Fill out the cancellation questionnaire
A cancellation questionnaire will appear once you click "Terminate membership". After providing your feedback, you can choose to either "Keep membership" or "Continue cancellation".
Please note that as a Basic Member, you will no longer have access to:
All JobFinder features with 100K+ career opportunities
Headhunter network and matching service to access the hidden job market
24/7 coaching services with guidance to land your dream job faster
If you would like to delete your JobLeads account entirely, please read the article "How do I delete my account?" for further instructions.